Technical Services: Why We Strive for Live Support
Infinite Peripherals
|
Posted April 23, 2019
Does your business rely on technology to run efficiently? What happens when that technology breaks or malfunctions? If you're like us, we assume you dread the frustration and confusion involved with the customer service process. These days, diagnosing and fixing issues with technology means a jumbled web of long wait times, automated phone services, and guesswork. It's nearly impossible to get a human on the phone as well as an accurate idea of when your technology will be back in action.
When we need tech support, we often have one goal in mind: get the technology working as soon as possible. Usually, this end goal is exponentially expedited when the customer can speak with a real human being.
At Infinite Peripherals, we want customers to reap all of the benefits of our enterprise mobility solutions. We understand both the frustration and urgency involved with customer service. That's why we decided to overhaul the way we serve our customers. Beginning in 2019, we started a more holistic and progressive approach to tech support with one vision in mind: enable human interaction in customer service. We built our team with experts, engineers, and technicians who are passionate about what they do.
Johnny Barajas, Depot Services Manager at Infinite Peripherals, is at the center of the Technical Services Center. His love of building does not just include our devices. Although Johnny understands our products from blueprint to shipping, he spends his free time working on his '75 Impala lowrider.
I sat down with Johnny to learn how his team works behind the scenes to provide support and service for order fulfillment, customer satisfaction, and special services.
Johnny Barajas
Depot Services Manager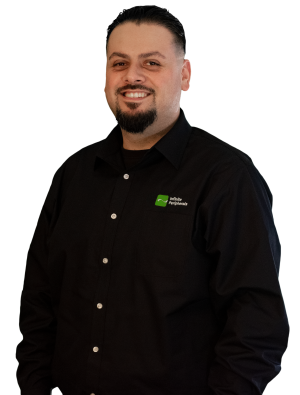 Q: Why did we decide to change our customer support protocol
A: We wanted to provide a quick and easy way for our customers to get the help they need with their devices, by providing quick access to the right people. That's why we decided to put everything from technical engineering to shipping under one roof.
Q: What aspects make our tech team unique?
A:The human aspect really sets us apart. We all know how frustrating it is to jump through hurdles and automation services. It's important to have personnel online and ready to help at any moment to get our customers up and running as quickly as we can.
Q: What is your favorite part about leading your team?
A: It's challenging. In a good way, of course. It's not just about understanding the procedure or best practices. I've taken a hands-on approach to make sure I understand each facet of the process.
Q: How do you see the tech support team growing?
A: Above all, we want to continue customer satisfaction. We're working innovative, new technology, so we want to ensure our customers understand everything.
Q: I heard you're a big fan of cars?
A: That's right.
Q: How does your love of cars relate to what you do here at Infinite Peripherals?
A: I've had a lifelong hobby of restoring and flipping cars. Now, I just work on my car, a '75 Impala lowrider.
It's a very hands-on approach, similar to what I do here. I love building stuff. With technical services, we're the ones that know our products best. You have to know how they're built to understand how they function.
I started working at Infinite Peripherals 12 years ago as a technician. That gave me a lot of experience building and taking apart the devices.
_____
Infinite Peripherals delivers mobility with simplicity by providing handheld, all-in-one mobile devices that tackle inventory, payment, and printing. To find out more information about our Technical Services Center, click here.